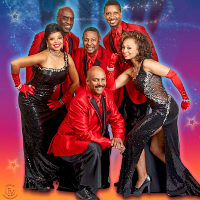 Shadows of the 60's
Tribute to Four Tops & Motown - Two Great Shows
Shadows Of The 60's pays tribute to the tremendous legacy of The Four Tops. Of all the Motown stable of stars, perhaps none had a more distinctive vocal signature sound than the Four Tops and Levi Stubbs, their one and only lead vocalist.
While other groups changed personnel, The Four Tops lineup remained unchanged for over 40 years, until the passing of three of the four – Lawrence Peyton, Renaldo "Obie" Benson and "the voice," Levi Stubbs.
Dave Revels, former member of The Drifters, and Shadows Of The 60's creative director, a long time devoted fan of the Four Tops, as a teenager, honed his vocal style by mimicking Levi's voice. He first met his musical idols while appearing alongside them on the 1985 NBC Special, "Motown Returns To The Apollo, ("Battle Of The Groups" segment to open the special). What began decades ago as a way of "learning" from the great Levi how to sing with heartfelt emotion, appeared destiny in the making, as now Four Tops fans are amazed at how effortlessly he seems to channel the voice of Levi, often coming eerily close to the sound of the records they first heard on the radio.
The costumes, choreography and staging will further transport you back to the time when you bought your first ticket to a Motown concert. Each member of the Shadows Of The 60's cast and crew were selected for their enthusiasm for the music and ability to invoke the sound, style and excitement of the original group. Performing to sold out venues across the country and receiving rave reviews, Shadows Of The 60's Tribute to The Four Tops is a must see musical experience.
SHOW MORE »