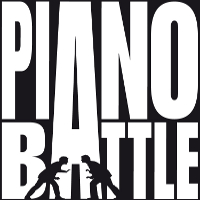 Piano Battle
The Modern Day Victor Borge - A Comic Piano Duo
Two Pianists, Six Rounds – Chopin vs. Liszt, Debussy vs. Schubert
Who will be the first to cross the finish line?
The audience will decide!
Internationally accomplished pianists Andreas Kern and Paul Cibis go head-to-head in PIANO BATTLE and charm the audience with an accessible variety of cherished classical works.
In the spirit of Two Cellos, Piano Guys and Victor Borge, PIANO BATTLE takes invention to another level by engaging the audience as the third member of the show, as they vote on the winner of the battle.
PIANO BATTLE also believes in the paramount importance of music education. They are excited to offer one-hour school shows, master classes to pianists, and lecture demonstrations while in your communities. Detailed descriptions are available for your consideration.
SHOW MORE »