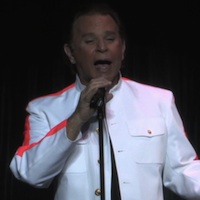 Lou Christie
Lou Christie's chart topping, multi-million selling career as a songwriter, recording artist, and performer started in a two-track studio in Glenwillard Pennsylvania, his rural hometown near Pittsburgh. Lou's first million selling song, THE GYPSY CRIED, transformed a local choirboy, Lugee Alfredo Giovanni Sacco, into LOU CHRISTIE – national teen idol, while still a teenager himself.
Over the decade of the 1960's Lou followed success with greater success. TWO FACES HAVE I was his next big hit featuring his stratospheric falsetto. LOU forever embedded himself and his uniquely talented voice into America's consciousness with his number 1 multi-million selling success LIGHTNING STRIKES. LOU'S chart topping success continued with two more million selling hits, RHAPSODY IN THE RAIN and I'M GONNA MAKE YOU MINE. RHAPSODY'S success was fueled by the fact that it was the first song banned on the radio due to its suggestive lyrics.
LOU'S records are still selling today! And, in addition to recent international re- releases, his most famous tracks can be found on "Greatest Hits" and other collections on Varies Saraband and Rhino Records. LOU recently released PLEDGING MY LOVE, a collection of newly recorded songs, including seven CO-written by LOU himself. LOU is also a major contributor to the Rhino Records release, GREASE IS THE WORD, a newly recorded version of the soundtrack from the motion picture Grease.
SHOW MORE »