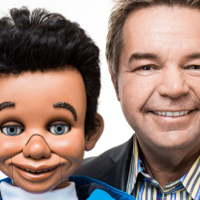 John Pizzi
Comedian Ventriloquist
A seasoned veteran of comedy clubs across America, John Pizzi's popularity is rivaled only by his electric on-stage presence. Pizzi pairs pitch-perfect characterizations through ventriloquism with the graceful spontaneity of a master.

Besides being a favorite at America's top resorts such as The Riviera and The Tropicana in Las Vegas and The Borgata Casino in Atlantic City, he and his "partner", Andy have appeared on Late Night with David Letterman, America's Funniest People, Good Morning America and The Daily Show with Jon Stewart on Comedy Central. Thus, successfully establishing himself as a burgeoning star of the comic community.

This show is mostly ventriloquism done with a Don Rickles-esque humor.  With this ad-lib style he whirls his audience into a frenzy of uncontrollable laughter.  Don't miss this nationally acclaimed and highly volatile comedian at his finest.
SHOW MORE »