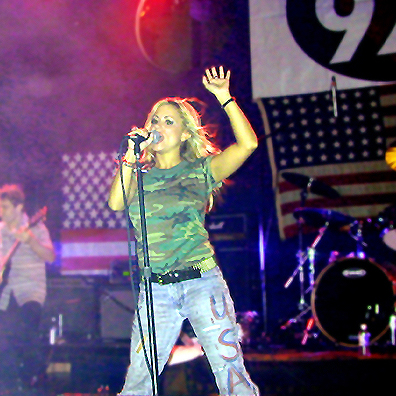 Jill Gioia Band
Women of Rock
Today's monarch of female vocalists, Jill Gioia sets an unprecedented standard of excellence. Having soared past 25,000 talented hopefuls to reach the top ten tier of "Rockstar Supernova" lead singers featured in the recent hit CBS international reality media series, her high-styled, hard hitting vocals have been gleaning her thousands of fans the world over.
A previously established and accomplished talent with several individual artists CDs to her credit, Jill has performed, toured and recorded with such illustrious artists as Kelly Clarkson, Third Eye Blind, The Trans-Siberian Orchestra, and Enya. With international renown to her credit, she now takes on new wings fronting a new all-star band comprising some of the globe's finest musicians.
Featuring musical artists from the Billy Joel/Twyla Tharp "Tony Award" winning Broadway and touring show "Movin' Out," seven other members of the new Jill Gioia Band bring their own renowned credits to the mix, having experience on bills with artists as diverse as Billy Joel to Ritchie Blackmore, and Alice Cooper to Celine Dion. The end cut is a newly emerging power-house band, one that blends with cover classics to Jill's own engaging original rock tunes in burn-the-house down performances. The band's stage ascendant musical talents only lend height to Gioia's already breathtaking vocals.
SHOW MORE »