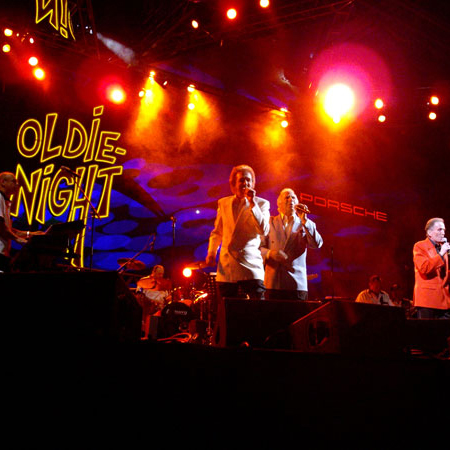 Jay Siegel's Tokens
Doo-wop group from Brooklyn
The multi-talented Jay Siegel is best known for his soaring falsetto on the classic mega-hit, "The Lion Sleeps Tonight."
Born in Brighton Beach, New York, a lifelong friendship with Neil Sedaka began when both attended Lincoln High School in Brooklyn where in 1955, Sedaka formed The Linc-Tones singing group. A year later, Siegel joined the Linc-Tones and the group name was changed to The Tokens. Siegel and Sedaka and fellow Tokens Cynthia Zolitan and Hank Medress then recorded "While I Dream" and "I Love My Baby" for Melba Records. As The Tokens, they performed together on their first television show, The Ted Steele Dance Time.
In 1958 Sedaka left The Tokens to begin his amazing solo career. Siegel joined Warren Schwartz, Fred Kalkstein and Hank Medress to form Darrell and the Oxfords. Together they recorded the regional hit, "Picture in my Wallet".
A reformed Tokens group emerged in 1961 with Mitch and Phil Margo joining Medress and Siegel. The group quickly attained prominence with the hit song, "Tonight I Fell In Love."
In October 1961, they recorded what has become one of the biggest hit songs of all time, "The Lion Sleeps Tonight." That hit song is celebrating its 50th anniversary in 2011. One of the seminal songs of all times, it has enjoyed resurgence in multi-generational popularity thanks to its prominence in the long-running Broadway hit show, The Lion King.
Other major hits for The Tokens include, "He's in Town", "I Hear Trumpets Blow" and "Portrait of My Love".
Jay Siegel and the Tokens have also produced many American pop classics, including The Chiffons, "One Fine Day" and "He's So Fine", Randy and the Rainbows, "Denise", Tony Orlando and Dawn's, "Candida", "Knock Three Times", and "Tie a Yellow Ribbon", as well as "I Got Rhythm" and "See You in September" by The Happenings.
SHOW MORE »