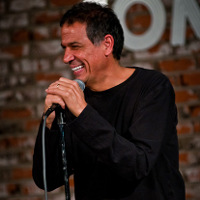 Bobby Collins
Stand-up Comedian
Comedian Bobby Collins has an ability to truthfully translate the human condition. Audiences across the country relate to his comedic characterizations as he exposes the humor of day-to-day situations as well as serving up resplendent rants on world events. His true dedication to his craft and his relationship with his audiences is what keeps his vibrant shows consistently sold out. Bobby Collins' rise to top headlining, comedic master was inevitable.
With appearances at Comedy Clubs, Theaters, Corporate and Charity events, coupled with innumerable television appearances on legendary shows like Letterman, The Tonight Show with both Jimmy Fallon and Jay Leno, Collins continues to add new fans of all ages to his loyal base of diehard followers.
What you see is what you get – Collins is the same man on and off the stage. Bobby Collins has a genuine love for what he does. With such skillful dissection of everyday life, he weaves his uproarious storytelling with effortless flair and charisma as he successfully dismantles any and all socioeconomic, race and age divides.
SHOW MORE »